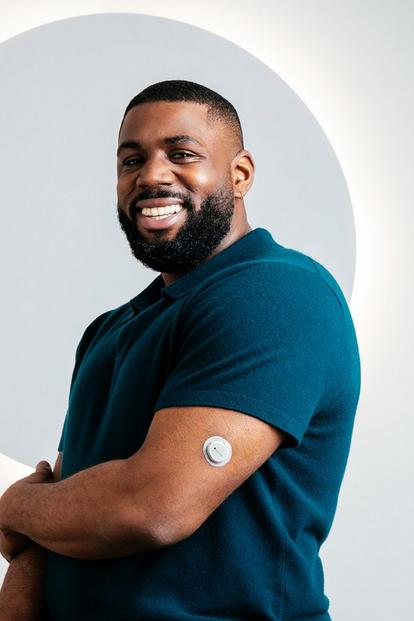 Try Dexcom CGM for Free
The Dexcom G7 is the most accurate
1
continuous glucose monitoring system that helps you manage your diabetes confidently and achieve real results. It shows your glucose and predicts where it's heading so you can make decisions about food, activity, and medication in the moment.
Use overpatch as instructed
What is Dexcom CGM?
Dexcom CGM Systems automatically send your glucose numbers to your smartphone
†
or Dexcom receiver, day and night. Unlike fingersticks that give you a number for a single point in time, Dexcom CGM lets you see your glucose numbers continuously, so you'll always know when you're trending high, low, or when you're good to go.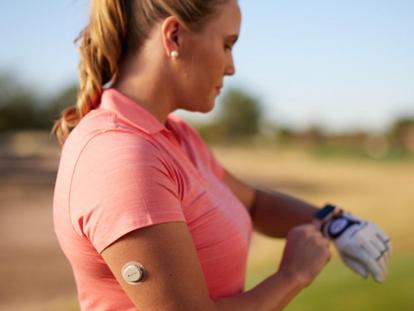 No fingersticks*, no scanning!
A small wearable sends glucose readings in real time to a smartphone
†
or Dexcom receiver every five minutes.
Use overpatch as instructed

*Fingersticks required for diabetes treatment decisions if symptoms or expectations do not match readings.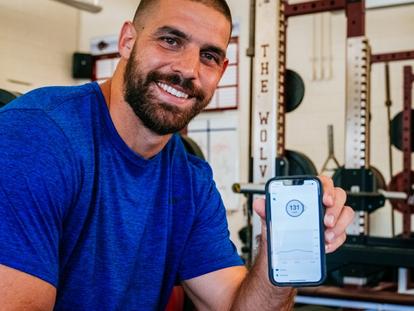 Most accurate CGM system
1
The most accurate
1
CGM system shows you your glucose and where it's heading, so you can make more informed diabetes decisions.
Mark Andrews, Dexcom user

Paid spokesperson of Dexcom, Inc.

Smart device sold separately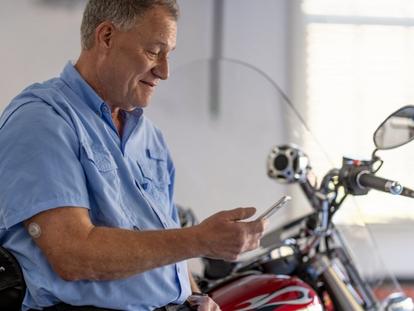 Proven to lower A1C
2-6
Dexcom CGM is proven to lower A1C, reduce hypoglycemia/hyperglycemia, and helps you spend more time in range.
Use overpatch as instructed
Which Dexcom CGM System is right for you?
Choosing the right CGM system is an important first step to better diabetes management. Every Dexcom CGM System delivers exceptional accuracy
1
you can trust, customizable alerts for more peace of mind, and insights at your fingertips to make diabetes decisions with confidence.
Smart device sold separately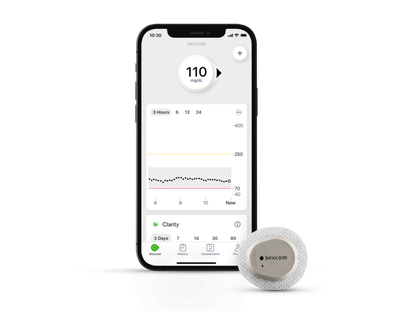 Dexcom G7
Dexcom G7 is the most accurate
1
CGM system available, and it is also Dexcom's smallest and easiest to use
1
. Dexcom G7 is ideal for people with diabetes who do not use a closed-loop automated insulin delivery system.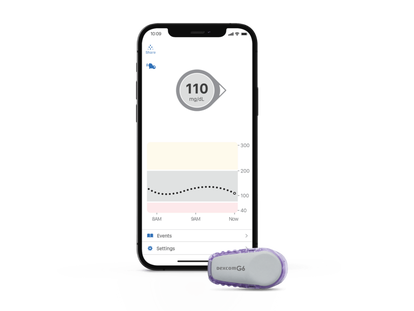 Dexcom G6
Dexcom G6 is the most connected CGM system. It integrates with a variety of automated insulin delivery systems, including Tandem t:slim and Omnipod 5. Dexcom G6 is right for people who rely on a connected insulin pump or pen.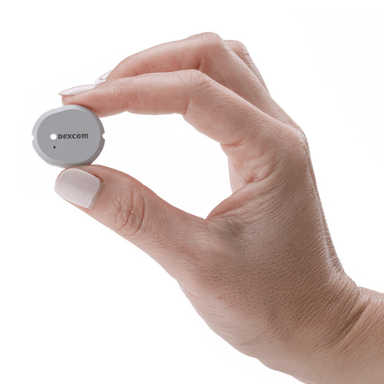 Start with three simple steps.
Submit your request


Fill out the online form to see if you qualify for the free 10-day Dexcom trial program.

Receive and activate your Dexcom CGM


Receive your Dexcom sample in the mail and easily activate it at home.

Begin your journey


Experience Dexcom CGM over the 10-day guided journey. Then, you can choose to continue with Dexcom CGM without needing an additional prescription.
The Dexcom G7 Continuous Glucose Monitoring ("CGM") System ("Dexcom G7") is provided for the sole purpose of allowing a healthcare provider and patient to observe and evaluate the patient experience, including the ease of use, safety, and efficacy of the Dexcom G7 and to determine whether the Dexcom G7 is right for the patient. This sample includes one (1) Dexcom G7 sensor.

This sample contains a medical supply for which a prescription is required. This sample may only be used at the direction of a licensed prescriber.
People with T1 and T2 Diabetes
Free samples for both Dexcom G6 and G7 are available for most people with Type 1 or Type 2 diabetes and have a commercial health insurance plan.
People on a government health plan (e.g., Medicare, Medicaid, VA, etc.) are not eligible for the free sample program at this time. However, they are eligible to
request full-time product
immediately. In addition, those who have prediabetes, or who have no diabetes diagnosis are not eligible for a free sample.
New Dexcom CGM Users Only
Dexcom G6 and G7 samples are only available to new Dexcom CGM users. Current Dexcom users looking to upgrade to Dexcom G7 from G6 can
click here
for more information.
Prescription required
Both Dexcom G6 and G7 samples require a doctor's prescription for use. Don't worry – if you qualify for a free sample, then we will help you request a prescription from your doctor
Smartphone compatibility
To experience a free Dexcom CGM sample, you must have your own compatible smartphone. The Dexcom G6 and G7 apps work with most Apple iPhones and Android smartphones.
Some common questions
Am I eligible for the free 10-day Dexcom trial?
What happens after I submit my sample request?
How long does it take to get my Dexcom Sample?
Once I get my sample, how do I request more sensors to continue on Dexcom?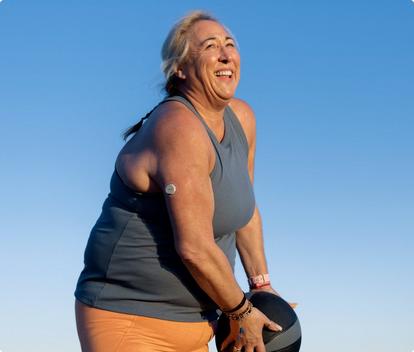 "I was so afraid that I'd lost freedom to live as I wanted to and that diabetes would somehow always hold me back. When I started using Dexcom CGM, I found those fears melting away. My diabetes didn't control me – I controlled it."
Julie, Dexcom Warrior

Use overpatch as instructed
#1 Covered CGM Brand
7
Most people pay $40 or less per month for


Dexcom CGM and many pay $0 out of pocket.

§

Dexcom CGM may be covered out of either your medical benefit or pharmacy benefit depending on your coverage. For many people, it can be easily picked up from your local pharmacy.
Smart device sold separately
Request a free Dexcom CGM sample
Eligible patients will receive one (1) 10-day sensor and (1) transmitter as part of the Dexcom G6 sample or (1) 10-day Dexcom G7 all-in-one transmitter/sensor as part of the Dexcom G7 sample. All eligible patients must be capable of safely using the Dexcom CGM sample with a compatible smart device without the need for a separate dedicated receiver, as determined by their treating healthcare provider. Please check the Dexcom Compatibility Guide to confirm that your smart device is compatible before requesting the Dexcom CGM sample. All Dexcom CGM samples require a valid prescription issued by a prescribing provider. Only patients 18 years of age and older are eligible to receive a Dexcom CGM sample, and patients 2 years of age and older are eligible to receive a Dexcom CGM sample through their parent or legal guardian. This offer is only available to patients who have not previously used a Dexcom CGM System and is for evaluation purposes only. Dexcom may modify or rescind this offer at any time without notice. Dexcom CGM samples are not available to beneficiaries of Medicare, Medicaid or other federal or state healthcare programs. This sample offer is also void where prohibited by law including to residents of Massachusetts, West Virginia, Minnesota, and Florida except if such state permits samples to be obtained through a treating healthcare provider or current diabetes supply distributor. The Dexcom CGM sample is provided as a sample evaluation product only and is limited to one per eligible person. The Dexcom CGM sample is to be used only by the person for whom it has been prescribed under a valid prescription by a licensed healthcare provider. The Dexcom CGM sample cannot be re-sold, traded nor submitted to any third party payer for reimbursement and is not provided as any inducement for future purchases.
* If your glucose alerts from the G6 and G7 do not match symptoms or expectations or you're taking over the recommended maximum dosage amount of 1000mg of acetaminophen every six hours, use a blood glucose meter to make diabetes treatment decisions.

† For a list of compatible devices, visit
www.dexcom.com/compatibility

‡ Managed Markets Insights & Technology, LLC MMIT Analitics, June 2022

§ Refers to estimated out-of-pocket cost for eligible commercially insured patients from the Dexcom G6 and G7 sensor when claims are adjudicated as a pharmacy benefit, and only includes benefits and offerings through available Dexcom programs, such as the voucher program. Actual cost may vary and is subject to individual insurance coverage. IQVIA Febuary 2022
1 Dexcom, data on file, 2022.

2 Welsh JB, et al. J Diabetes Sci Technol. 2022:19322968221099879.

3 Gilbert TR, et al. Diabetes Technol Ther. 2021;23(S1):S35-S39.

4 Beck, RW, et al. JAMA. 2017;317(4):371-378.

5 Beck RW, et al. Ann Intern Med. 2017;167(6):365-374.

6 Martens T, et al. JAMA. 2021;325(22):2262-2272.

7 Managed Markets Insights & Technology, LLC. MMIT Analytics, June 2022.
BRIEF SAFETY STATEMENT

Failure to use the Dexcom Continuous Glucose Monitoring System ("CGM") according to the instructions for use provided with your device and available at
https://www.dexcom.com/safety-information
and to properly consider all indications, contraindications, warnings, precautions, and cautions in those instructions for use may result in missing a severe low or high glucose event and/or making a treatment decision that may result in injury. If glucose alerts and readings from the Dexcom CGM do not match symptoms, use a blood glucose meter to make treatment decisions. Seek medical advice and attention when appropriate, including for any medical emergency.