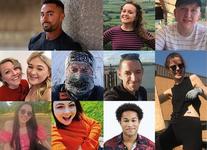 Why Choose Dexcom CGM?
Dexcom CGM can saves lives.
How do we know?
Because people, parents and families will go out of their way to tell us.
Here are just a handful of Dexcom UK customer reviews.
"
I was lucky to have Dexcom whilst pregnant it made the pregnancy so much easier. I suffered with pregnancy sickness throughout my pregnancy so managing my T1 was even harder but the Dexcom helped so much.
Being able to continuously monitor my glucose was wonderful and I felt the most in control of my diabetes I ever have.
"
Dexcom review by Kerry Sayles
"
I applied for the free trial and never looked back. Being a hectic working mum of two young children Dexcom just worked for me and my busy schedule. I absolutely love it, I couldn't praise it or put into words the benefits from having Dexcom.
I have recently fought to receive Dexcom through the NHS and couldn't be happier.§ You make living with type 1 diabetes easier and more manageable. I personally would like to thank you for the amazing technology you have created.
Dexcom review by Rachael Marie Porter
"
Self funded Dexcom for my hypo unaware T1D son to see how it would work for him and never looked back. Absolute game changer for us. Now rarely finger pricks. Fought for funding
§
with Paediatric Diabetic nurse, building business case on cost of Flash blood test strips we were using along with his Hypo unawareness, and sporty active lifestyle and WON.
"
Dexcom review by Judy Moore
"
Our (now) 6 year-old was diagnosed 3 months ago. His diabetes nurse recommended switching to Dexcom and the improvement was instant.
Having real time readings is so reassuring and no more finger pricking.*
"
Dexcom review by Mike Stretto
"
My son is very sporty and we find it tracks his glucose much more accurately. The high and low alarms mean we all get to sleep safe in the knowledge it will alert us if anything untoward is happening!
"
Dexcom review by Andrea Finden
"
I use a Dexcom G6 sensor and have been delighted with its performance - accurate, easy to use and genuinely a life-saver, considering low hypo awareness.
"
Dexcom review by Jeff Foot
"
I love its accuracy, it's ease of use and the difference it's made to my HbA1c. It just fits into my routine perfectly. Everyone should try Dexcom and see just how good it is.
I am 49 years old and fortunate that none of my children are type 1, if they were type 1 I would make Dexcom a priority and use the share feature† to monitor them and keep them safe. Thanks Dexcom.
"
Dexcom review by Nick Allen
"
Dexcom G6 has changed my life. I was using Flash before which helped to see the whole picture of my rollercoaster readings, but until I happened to swipe I wasn't able to act. I find my Dexcom much more accurate, and the fact that it is monitoring me overnight with alerts that wake me, at the levels I choose, really helps me sleep more soundly.
I got the trial month package to see what the difference was, but before that first month was over, I was hounding Dexcom to please sign me up. My rollercoaster is now more of a bowling alley, and Dexcom is my bumper bar to keep me in my lane!
"
Dexcom review by Sam Yusuf
Join the Warriors
We are fiercely proud of our Dexcom Warriors – a community of like-minded people living with diabetes. You can find out more and share your story too by joining the programme.

Dexcom G6
Find out how the Dexcom G6 Continuous Glucose Monitoring System gives you the power to take control of your diabetes.
The reviews included on this page express the opinion of people with diabetes who use Dexcom products. They are published with permission from the reviewers.

* If your glucose alerts and readings from the Dexcom G6 do not match symptoms or expectations, use a blood glucose meter to make diabetes treatment decisions.

† Internet connectivity required for data sharing. Following requires the use of the Follow App. Followers should always confirm readings on the Dexcom G6 App or Receiver before making treatment decisions.

‡ Dexcom products contain a slim sensor that continuously measures glucose levels just beneath the skin and sends data wirelessly to a display device through a transmitter.

§ CGM Systems are currently available through the NHS for certain people with type 1 diabetes, but it depends on your circumstances and where you live. To find out more visit
www.dexcom.com/en-GB/access-cgm