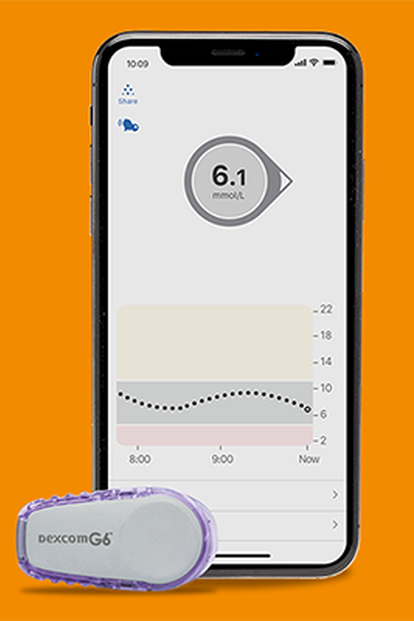 The CGM Blog
How Dexcom G6 Can Change How You Live With Diabetes
Many may not realize that when you live with diabetes, it changes how you live. It impacts your day-to-day activities and your relationships as it requires constant management and awareness, 24 hours a day, 7 days a week. For the
10%
of Canadians who have been diagnosed with type 1 or type 2 diabetes, the demands of this disease are constant, and at times, understandably exhausting.
But just imagine having a system that can help relieve some of that stress. A low-profile system, small enough to wear discreetly under your clothing, which consistently provides you with accurate glucose readings.
1,2
Dexcom didn't just imagine this system, we created it.
The Dexcom G6 CGM System continuously reads and transmits real-time glucose data to your
compatible mobile device
—up to every 5 minutes, even while you're sleeping. Dexcom G6 essentially frees you from needing routine fingersticks* or having to remember to scan a sensor to make decisions on your diabetes treatment. And unlike flash glucose monitors (FGM), the Dexcom G6 can notify you up to 20 minutes before a dangerous low, so you can be proactive with your diabetes management and take action when you need to.
Through simplicity and convenience, Dexcom G6 can help relieve you from the demands of the condition and put you in the driver's seat of your diabetes care.
How the System Works
The Dexcom G6 CGM System consists of three simple parts that can help your diabetes management in a big way:
1. The factory-calibrated sensor

Think of this as your data collection centre. This slim wearable sensor, roughly the size of your thumb, features a tiny wire attached to its underside. A one-touch applicator helps to insert this wire just beneath the skin, and the application is quick and painless
†,1
. The sensor then continuously measures your glucose levels, about every 5 minutes. Each sensor is water-resistant
‡
and can stay on your body for up to 10 days, so you can go about your day with fewer interruptions.
2. The reusable transmitter

Your sensor requires a small transmitter to deliver the real-time readings wirelessly to your
compatible device
. The transmitter is easily attached to the sensor with a quick snap. It lasts up to three months, so you can use about nine sensors for every transmitter.
3. The display device

Dexcom G6 works hand-in-hand with the
Dexcom G6 app
which is
compatible with most Android and Apple smart devices
. The app continuously updates with new glucose data received from the sensor without you ever needing to manually scan the sensor. The system calculates your glucose reading and displays it through easy-to-read numbers and colour-coded arrows that show how quickly your glucose is rising or falling.
§
How Dexcom G6 Measures Glucose Levels
Most people are familiar with the traditional blood glucose meter (BGM) which uses fingersticks to measure glucose in the blood. The Dexcom G6 is different in that it's a wearable device that measures glucose in the interstitial fluid. This method has similar effectiveness in measuring glucose levels, but because no routine fingersticks* are required, it's far more convenient.
Firstly, what exactly is interstitial fluid? It's a nutrient-dense fluid that surrounds all of the cells in the body, fueling them with glucose, minerals, fatty acids, and more. Interstitial fluid makes up about 20% of our total body weight.
3
After glucose is absorbed into your bloodstream, it moves quickly into the interstitial fluid to be transported all over your body.
4
Since glucose is constantly moving between the two, glucose levels in interstitial fluid are similar (but not exactly the same) to those in the blood.
5
It's important to note that there is a slight delay of about 5 minutes between glucose in the bloodstream and glucose in the interstitial fluid.
4
The Dexcom G6 sensor measures glucose in the interstitial fluid and the system then estimates your glucose level. This allows the system to provide you with accurate
1,2
readings (without the need for routine fingersticks*) and can alert you when your levels are trending high or low.
How CGM is Transforming Diabetes Care
Continuous glucose monitoring (CGM) technology has significant benefits over FGM systems. While an FGM device also reads interstitial fluid to avoid fingersticks, it's missing several of the features that make a CGM system a convenient and user-friendly alternative in diabetes care.
Here are a few of the core functions that show how the Dexcom G6 CGM System is different from the leading FGM system:
Continuous glucose readings with easy-to-understand visuals without the need for manual scans or painful routine fingersticks*.

An Urgent Low Soon alert that can warn you up to 20 minutes before a dangerous low (<3.1 mmol/L), which can help you prevent hypoglycemia.

The only system in Canada designed for children 2 years of age or older.
Dexcom G6 is designed to help make monitoring glucose easier. It puts the power of knowledge in the palm of your hand, helping you improve how you manage your glucose, every day. With Dexcom G6, it's not just about living with diabetes. It's about living.
You can learn more about the Dexcom G6 system
here
. Need help with insurance coverage? Speak to our
team of Account Specialists
to take the next step towards a better life with diabetes.
*If your glucose alerts and readings from the G6 do not match symptoms or expectations, use a blood glucose meter to make diabetes treatment decisions.

†84% of Dexcom G6 users report painless sensor insertion.

‡The Dexcom G6 Sensor and Transmitter are water-resistant and may be submerged under eight feet of water for up to 24 hours without failure when properly installed.

§ Using Your G6 Guide
1 Shah VN, Laffel LM, Wadwa RP, Garg SK. Performance of a factory-calibrated, real-time continuous glucose monitoring system utilizing an automated sensor applicator. Diabetes Technol Ther 2018;20:428-33.

2 Wadwa RP, Laffel LM, Shah VN, Garg SK. Accuracy of a factory-calibrated, real-time continuous glucose monitoring system during 10 days of use in youth and adults with diabetes. Diabetes Technol Ther 2018;20:395-402.

3 Brinkman JE, Dorius B, Sharma S. Physiology, Body Fluids. In: StatPearls [Internet]. Treasure Island (FL): StatPearls Publishing; 2021 Jan.

4 Basu A, Dube S, Slama M, et al. Time lag of glucose from intravascular to interstitial compartment in humans. Diabetes 2013;62:4083-4087.

5 http://www.diabetes.co.uk/body/interstitial-fluid.html [Accessed: June 2019]