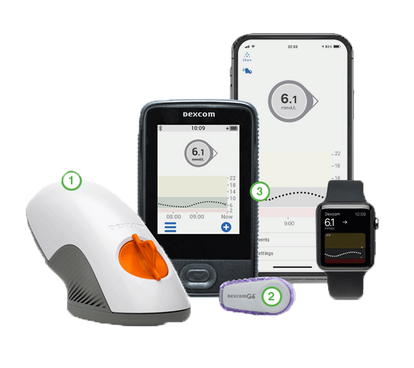 The Dexcom G6 CGM System
Auto-Applicator

- a one-touch applicator inserts a small sensor just beneath the skin.

Sensor and Transmitter

- a slim sensor continuously measures glucose levels just beneath the skin and sends data wirelessly to a display device through a transmitter.

Display Device

- An Apple or Android

compatible smart

device or touch screen receiver displays real-time glucose data.
Take Control of Your Diabetes Management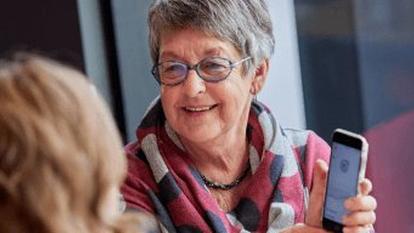 No More Routine Fingersticks*
Now you can prick your finger a whole lot less. Dexcom G6 provides you with the freedom to manage your diabetes how you want, with no scanning needed.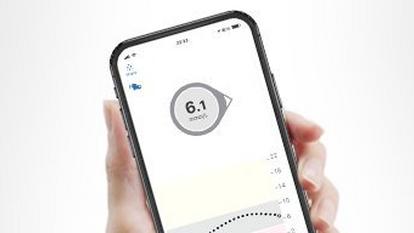 Glucose Readings at a Glance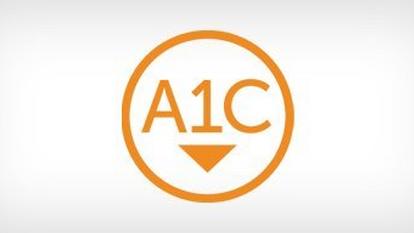 Helping Keep You in Control
Dexcom CGM is proven to lower A1C, reduce hypoglycemia, and increase time in range
1,2
.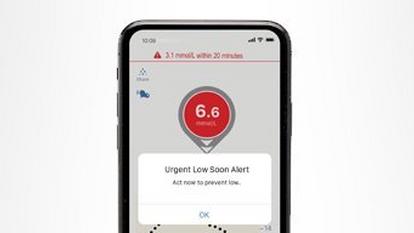 Predictive Alert
The Urgent Low Soon alert can warn you up to 20 minutes before a serious low (<3.1mmol/L).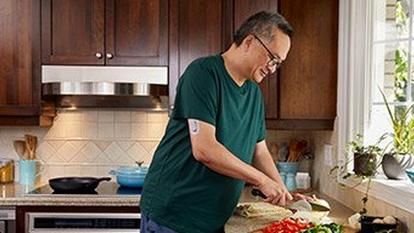 Wear It Where You Like
Dexcom G6 can be worn in a variety of locations that fit your needs so no one will know you're wearing it.
¶
*If your glucose alerts and readings from the G6 do not match symptoms or expectations, use a blood glucose meter to make diabetes treatment decisions.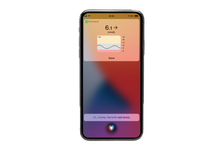 Hey Siri, What's My Glucose?
Great for when you're on the go or need to be handsfree, ask Siri to read your glucose values out loud. You'll hear your current reading, how it's trending and will be able to quickly see your trend graph. Available on the
latest version of the Dexcom G6 app
exclusively on iOS devices.
Dexcom G6 Alerts and Alarm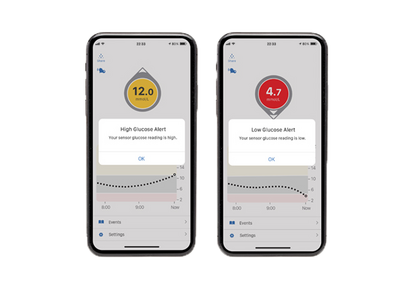 High and Low Alerts
With Dexcom G6 CGM, you can customize your own alerts at levels you choose to help you prevent hypo- or hyperglycemia. Real-time alerts prompt you to take action if levels are too low or too high - day and night.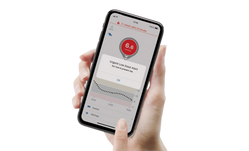 Urgent Low Soon Alert
At times, glucose levels fall quickly. The Urgent Low Soon alert with Dexcom G6 can provide a warning up to 20 minutes in advance of serious hypoglycemia (glucose levels at or below 3.1 mmol/L), so you can take steps to prevent it.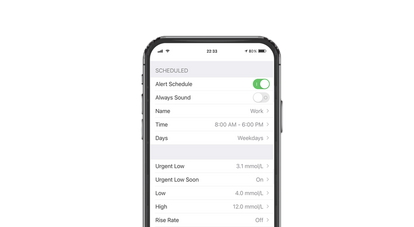 Alert Schedule
Do you want to be alerted differently during the day than at night time or on the weekends? The Alert Schedule setting with Dexcom G6 allows you to customize a second group of alerts to provide you with the flexibility you need for your busy life.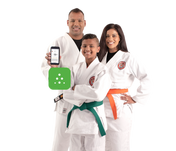 Share Your Dexcom G6 Glucose Data
Stay connected in real-time to your circle of support with the Dexcom Share feature for added protection and peace of mind.
To get started with sharing your glucose data, just follow these 3 simple steps:
Enable the Share feature from your Dexcom G6 App

Invite up to 10 people to Follow you

Followers will only need to download the Dexcom Follow App and have an internet connection

†
Options for Sensor Placement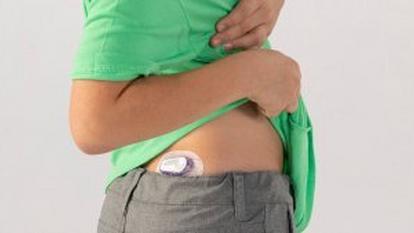 Upper Buttocks
This location is available for use by children ages 2-17 years old.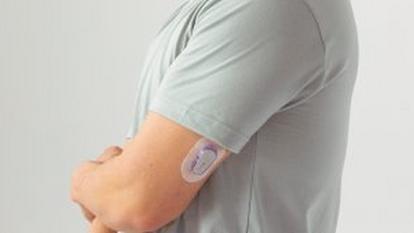 Back of Upper Arm
This location is easy to reach and may be an ideal option for people who are active. It is available for ages 18 years and older.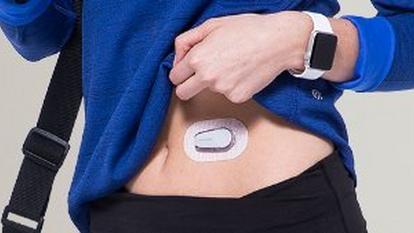 Abdomen
This location is easier to cover with clothing, making it more discreet for easy wear. It is available for ages 2 years and older.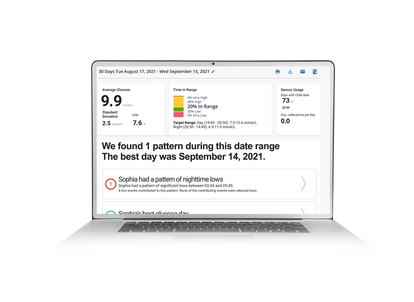 Dexcom CLARITY
Managing diabetes can be complex. With Dexcom CLARITY Reporting Software, diabetes data reporting and management are made simple. See your CGM trends and patterns and share them with your healthcare provider to help you better manage your diabetes.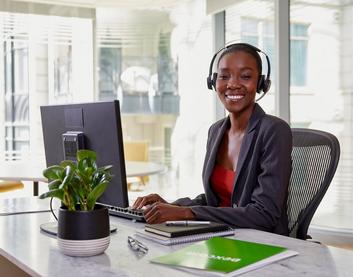 Have Questions About Insurance Coverage?
Most private insurance plans now cover Dexcom CGM.
†
Our Account Specialists can help you in navigating the insurance process to determine your coverage.
Get started by filling out our online form, or call us toll-free at 1-844-832-1810 to speak with an Account Specialist.
*If your glucose alerts and readings from the G6 do not match symptoms or expectations, use a blood glucose meter to make diabetes treatment decisions.

† Requires the Follow App and an internet connection. Followers should always confirm readings on the Dexcom G6 CGM App or Receiver before making treatment decisions.

‡ The Dexcom G6 Sensor and Transmitter are water-resistant and may be submerged under eight feet of water for up to 24 hours without failure when properly installed.

|| Dexcom data on file, 2023. Individual benefits may vary by policy and plan.

¶ The Dexcom G6 can be worn on the back of upper arm for users 18 years and older, the upper buttocks for users aged 2-17 years, or the abdomen for users 2 years and older.

1. Beck RW, et al. JAMA. 2017;317(4):371-378.

2. Welsh JB, et al. Diabetes Technol Ther. 2019;21(3):128-132.

3. Dexcom Using Your G6 Guide