What is a sensor code and why do I need one?
A sensor code allows you to use the Dexcom G6 CGM System without the need for fingersticks or calibrations.* When you start a new sensor, you must enter a code into your display device, as each sensor has its own code printed on the back of the adhesive patch.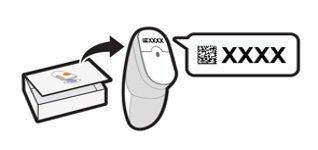 Do not use a code from a different sensor or make up a code. If you do, your sensor will not work as well and could display inaccurate data. If you lose the sensor code, you may calibrate your Dexcom G6 using fingersticks. In the event that you do lose your sensor code, though, please
click here
for further instruction.
* Fingersticks required for diabetes treatment decisions if symptoms or expectations do not match readings.