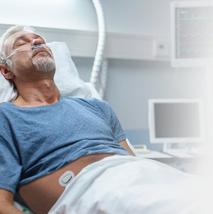 Fact sheet for healthcare providers:
Use of Dexcom Continuous Glucose Monitoring Systems during the COVID-19 pandemic
Dexcom Continuous Glucose Monitoring (CGM) Systems are indicated for home use and have not been FDA-cleared or approved for use in hospital settings. FDA notified Dexcom on April 1, 2020, however, that it will not object to Dexcom's provision of CGM systems for the treatment of patients in hospital settings and other healthcare facilities to support COVID-19 healthcare-related efforts during the current pandemic.
Due to the public health crisis of COVID-19 and the need to preserve personal protective equipment (PPE) and reduce frequency of staff exposure, Dexcom is making its Dexcom G6 CGM Systems (Dexcom G6) available for remote patient monitoring in the hospital setting.
This document is meant to inform healthcare professionals of the specific considerations for use of the Dexcom G6 in hospitals and other healthcare facilities to support COVID-19 healthcare related efforts. The following information should be reviewed carefully by healthcare professionals before using Dexcom G6 in hospital settings.
Use of Dexcom CGM Systems in the hospital setting
- Dexcom's CGM systems measure interstitial glucose and provide readings every 5-minutes that can be used to support remote patent monitoring. This allows visualization of continuous glucose information and the ability to track trends and urgent changes
- The use of Dexcom's CGM systems can raise unique and untested challenges in a hospital environment. Hospitals should consider whether they have the resources and expertise necessary to adequately implement real-time CGM use in their facility and provide appropriate training to healthcare providers and users.
- Healthcare providers should carefully review the otherwise applicable
User Guide
and
Training Checklist
for Dexcom's CGM systems prior to use. Additional information and training materials can also be found at:
dexcom.com/guides
- Currently, there are no approved or available alternatives which could provide continuous remote glucose monitoring in the hospital setting. It is hoped that the use of real-time continuous glucose monitoring devices, such as the Dexcom CGM system, will help reduce PPE usage and hospital staff exposure during the current COVID-19 pandemic.
- Hospitals should continue to use their existing protocols to manage and treat patient glucose levels. Real-time CGM can be used to provide remote monitoring and glucose trends to aid in glucose management and medical decision making.
- Real-time continuous glucose readings can have inter-personal variability. Performance of real-time Continuous glucose monitoring has not been tested on COVID-19 patients in their acute or non-acute hospital settings.
Indications for use of Dexcom CGM Systems
The Dexcom G6 system is a real-time, continuous glucose monitoring device indicated for the management of diabetes in persons age 2 years and older for in-home use. For complete indication for use and intended use statements, please see Dexcom G6 Instructions for Use.
1
Important information for use of real-time CGM system in the hospital settings
- CGM glucose results are less accurate than blood glucose results obtained using traditional testing methods (e.g., lab glucose, blood glucose meters). Users should consider all CGM glucose information (e.g., trend) along with individual glucose values, and interpret CGM results in the context of the full clinical picture.
- CGMs may be subject to interferences that may generate falsely high and falsely low glucose readings. Levels of interference depend on drug concentration; substances that may not significantly interfere in non-hospitalized patients may interfere when used in the hospital setting because of higher dose levels. Most drugs used in hospital or critical care settings have not been evaluated and their interference with CGMs is unknown. Based on its structure, it is unlikely hydroxychloroquine would interfere with Dexcom CGM. Known interferences vary by CGM brand, and can include:
Acetaminophen

2

Ascorbic acid

Hydroxyurea

Other reducing drugs/ compounds
- Poor peripheral blood perfusion may cause inaccurate sensor readings. CGM results should be interpreted considering accompanying patient conditions and medications. Other clinical conditions may also cause inaccurate readings.
Additional considerations for use of Dexcom CGM System in the hospital settings during the COVID-19 pandemic
- Continuous glucose readings do have inter-personal variability and has not been tested on COVID-19 related patients.
- Dexcom G6 CGM System has not been tested in MRI/CT/Diathermy situations. Remove CGM prior to MRI/CT/Diathermy tests. See, Dexcom's G6 Instructions for Use for warnings and precautions.
- The use of Dexcom systems for hospital use is limited to the duration of the current COVID-19 pandemic, and may be subject to further future limitations by FDA
I have questions about the Dexcom CGM Systems, how can I reach Dexcom?
How do I report adverse events?
Report Adverse events, including problems with performance or results, to Dexcom by calling: 1-844-607-8398 and selecting option for healthcare professional support or submit web support request at dexcom.com/contact/hospitals (same day follow up).
Where can I go for updates and information about COVID-19?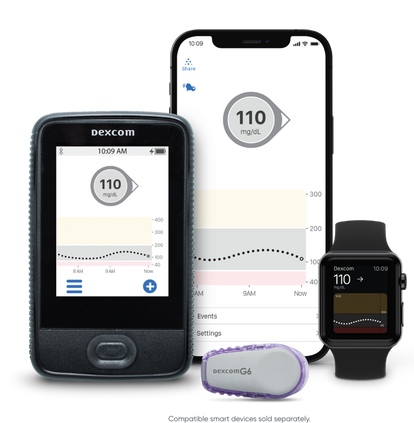 How to order
To request Dexcom CGM for in-hospital use in response to COVID-19, please complete and submit this online request form.
1 Dexcom G6 CGM System User Guide
2 Taking higher than the maximum dose of acetaminophen (e.g. > 1 gram every 6 hours in adults) may falsely elevate G6 readings.