Food and your diabetes management
The content in this article should not be taken as medical advice. Please consult your healthcare provider regarding your individual health needs.
Managing your type 2 diabetes can mean keeping a close eye on your food choices. What you eat, when, and how often can all have an impact on your blood glucose levels. Since people with diabetes are recommended to spend more time in range (TIR)
1
, being mindful of your food choices may help you feel more empowered to manage your diabetes, drive positive glycemic results, and ultimately feel better—it feels good to feel good!
Making mindful food choices on top of managing blood glucose levels can be challenging. However, proper education, planning, and purposeful effort can make it more achievable. Remember to always talk to a registered dietitian or your HCP as the best source of information for your individual needs and care.
Let's explore three tips to get you started.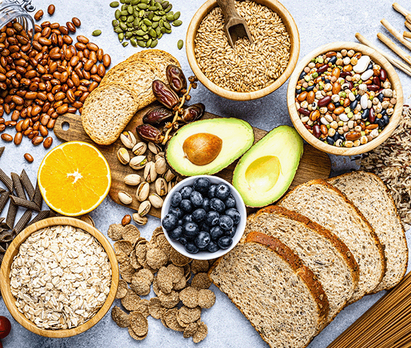 Tip #1: Combine carbs with fats and proteins
First - Carbs with more fiber
2
You're likely familiar with the importance of carbohydrates and how they break down into sugar (or glucose) in the bloodstream so they can be absorbed for energy. Fiber is a type of carbohydrate that slows that process down. Why would you want to slow that process down? Aside from keeping you fuller longer, this can also influence the timing or dosing of insulin. The result is fewer peaks or spikes in your blood sugar and can help you spend more time in range. Basically, consuming more fiber could mean less pressure on the body to produce or absorb insulin quickly as a result.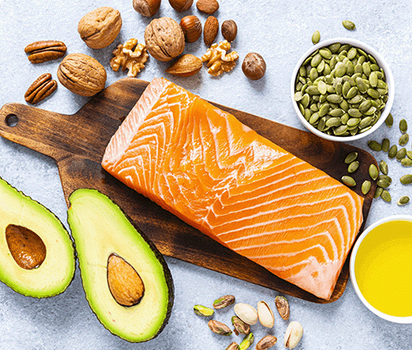 Fat and protein
These two macronutrients don't turn to sugar in the bloodstream, and, like fiber, assist in the process of slowing down digestion which can delay a rise in glucose levels.
3
Fat when eaten in modest amounts has a minimal impact on glucose levels, however eating too much fat can cause insulin resistance, which may lead to prolonged high glucose levels
3
. A modest amount of fiber, fat, and protein can help reduce extreme blood sugar inflections
4
and therefore result in greater TIR. You may also find you feel fuller and more satisfied for a longer period, helping you have an easier time avoiding overeating—that's a win-win!
Dexcom CGM can help keep you aware of your glucose levels, and registered dietitian and T1D, Sarah Ehlers suggests the following "equation" that can help as a guide when choosing food combinations or structuring meals and snacks:
Fiber-rich carbohydrate + heart-healthy fat + lean protein*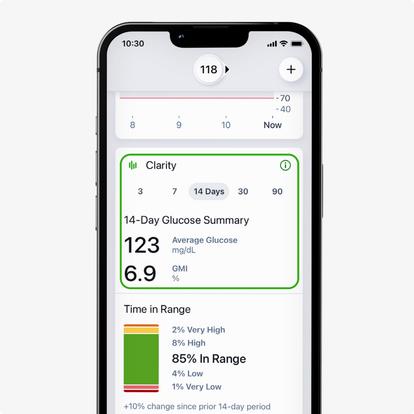 Tip #2: Eat your carbs last
What you eat and when you eat matters. One thing to keep in mind is the order of the different foods you eat. Studies have shown that your post-meal (postprandial) glucose levels may not spike as high when carbohydrates are consumed last.
5-6
The next time you eat a meal, keep this order in mind
7
:
Non-starchy veggies—start with something green!

Protein and fat

Carbohydrates
You can try eating the same meal in a different order and use your CGM to see how your glucose is personally affected.
You can even use your Clarity reports to reflect on different food choices, combinations, and the order that you ate them in!
Tip #3: Choose foods that are anti-inflammatory
You've probably heard of it, but what is inflammation? Inflammation is a response that happens in the body for protection and healing. In general, excessive blood sugar spikes can increase inflammation.
8
Anti-inflammatory foods can be a preventative way to ease the impact and interrupt that negative inflammatory cycle.
9
An added bonus of anti-inflammatory foods? Brain health!
4
(This is what we call literal food for thought.)
Foods that fight inflammation
10
After repeated mindful choices, you'll begin to easily pick out foods that are naturally anti-inflammatory. Regularly incorporating these foods can be a habit for which your body will thank you. Start with these two tips:
Bright foods with bright colors:
(example of "color" is anthocyanin, the anti-inflammatory pigment found in berries) strawberries, cherries, blueberries, tomatoes, etc.
Healthy fats:
nuts, peanut/almond butter, olives, eggs, etc.
Aiming for the right combination, incorporating more anti-inflammatory foods into your diet, and eating foods in a specific order can support diabetes management and living a healthier life.
10
Remember, it feels good to feel good—and you've got the tips you need to get moving in the right direction.
Get started on Dexcom G7
If you are living with diabetes and not using CGM, talk to your doctor about Dexcom G7. We can help you get started with a free benefits check. Click the button below to send us some basic information.
*Clinical opinion of Sarah Ehlers, registered dietician and T1D
1
Nuha A, et al. American Diabetes Association, 6. Glycemic Targets: Standards of Care in Diabetes—2023. Diabetes Care 2023; S97–S110.
2
Centers for Disease Control and Prevention. Fiber: The CARB that helps you manage diabetes. CDC Website. Updated June 20, 2022. Accessed July 11, 2023.
https://www.cdc.gov/diabetes/library/features/role-of-fiber.html#:~:text=Fiber%20can%20help%20manage%20your,in%20preventing%20or%20managing%20diabetes
.
3
Joslin Diabetes Center. Carbs, protein and fats – their effect on glucose levels. Published July 8, 2021. Accessed July 11, 2023.
https://www.joslin.org/patient-care/diabetes-education/diabetes-learning-center/carbs-protein-and-fats-their-effect
4
Basturk B. et al. Evaluation of the Effect of Macronutrients Combination on Blood Sugar Levels in Healthy Individuals. Iran J Public Health. 2021;50(2):280-287.
5
Shukla AP, et al. Food Order Has a Significant Impact on Postprandial Glucose and Insulin Levels. Diabetes Care. 2015; 38 (7): e98–e99.
6
Shukla AP, et al. Effect of Food Order on Ghrelin Suppression. Diabetes Care. 2018; 41 (5): e76–e77.
7
Shukla AP. et al. The impact of food order on postprandial glycaemic excursions in prediabetes. Diabetes Obes Metab. 2019; 21: 377– 381.
8
Collier B, et al. Glucose control and the inflammatory response. Nutr Clin Pract. 2008;23(1):3-15.
9
Lewis J. Are anti inflammatory diets recommended for people with diabetes. Diabetes Care Community. Published February 16, 2023. Accessed July 11, 2023.
https://www.diabetescarecommunity.ca/diet-and-fitness-articles/are-anti-inflammatory-diets-recommended-for-people-with-diabetes/
10
Zwickey H, et al. Effect of the Anti-Inflammatory Diet in People with Diabetes and Pre-Diabetes: A Randomized Controlled Feeding Study. J Restor Med. 2019;8(1):e20190107.
BRIEF SAFETY STATEMENT: Failure to use the Dexcom Continuous Glucose Monitoring System and its components according to the instructions for use provided with your device and available at
https://www.dexcom.com/safety-information
and to properly consider all indications, contraindications, warnings, precautions, and cautions in those instructions for use may result in you missing a severe hypoglycemia (low blood glucose) or hyperglycemia (high blood glucose) occurrence and/or making a treatment decision that may result in injury. If your glucose alerts and readings from the Dexcom CGM do not match symptoms, use a blood glucose meter to make diabetes treatment decisions. Seek medical advice and attention when appropriate, including for any medical emergency.
Dexcom, Dexcom Follow, Dexcom Clarity, and Dexcom Share are registered trademarks of Dexcom, Inc. in the U.S., and may be registered in other countries. ©2023 Dexcom, Inc. All rights reserved.