U.S. Army vet starts winning his war against diabetes with Dexcom G7
"Dexcom G7 gives me that consistent, real-time feedback that allows me to make better decisions in my life."
From the stage, retired Col. Greg Gadson cuts an imposing figure of bravery, dignity and charm.
"Throughout my life, when people would ask me how I was doing, I'd say: 'I'm busier than a one-legged man at a butt-kicking contest,'" he jokes from his wheelchair.
The well-decorated U.S. Army veteran and amputee elicits a round of laughter from his audience and cracks a wry smile. The motivational speaker commands his audience as successfully as he commanded men and women during a 26-year career, where he served in Operations Desert Shield and Desert Storm, Operation Joint Forge, Operation Enduring Freedom and Operation Iraqi Freedom. Prior to his service, he attended the U.S. Military Academy at West Point, N.Y., where he also played football.
While leadership, service and sacrifice are clearly in the 57-year-old's character, he calls others sacrificing to save his life the real heroes. On May 7, 2007, he was in Baghdad returning to base from a memorial service for two soldiers in his brigade when a roadside bomb blew up his 15,000-pound vehicle and ejected him nearly 100 yards. He hit the ground and came to a rolling stop on his back, his right arm and both legs severely injured, and he was furious.
"It was the second time I'd been in a vehicle hit by a roadside bomb," he recalled. "This time was different, and the last thing I said was, 'God, I don't want to die here.' But I was fortunate my teammates – men like First Sgt. Johnson – arrived and found me nearly a football field away from where my vehicle came to a stop. I was already unconscious laying in a pool of blood when he began to resuscitate me. A 19-year-old private put tourniquets on my legs, and the doctors credit him with saving my life."
That evening, he went through 129 pints of blood – and died six times.
"But the part that touches me today is the sacrifice made that month in Baghdad and the others who died," he said.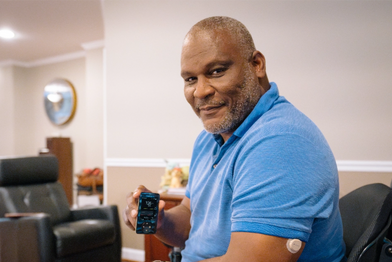 "Dexcom G7 gives me that consistent, real-time feedback that allows me to make better decisions in my life"
Use overpatch as instructed
Diabetes opens a new combat zone
After losing his legs, he fought back through his injuries and served another eight years in command while pioneering next-generation prosthetics. Yet, his health challenges had only begun. In 2010, he was heavier than his normal weight and was diagnosed with pre-diabetes. His doctor prescribed medication and that helped until 2019, when he was then diagnosed with type 2 diabetes.
"At first, I thought it was just another challenge – I'll correct myself and eat better and exercise and reverse it," he said. "For the first six months, I tried to eat better and exercise more, but I travel a lot to speak and had too many burgers and cocktails on planes, and I finally started to give up. I remember having sweats while eating. Diabetes was winning and I didn't seem to have the will to want to overcome it."
That's when his doctor gave him a pep talk and prescribed a flash continuous glucose monitor (CGM). It wasn't covered by his insurance, so he paid out of pocket, realizing he "needed a coach" to help him with his diabetes management.
"I wasn't impressed with the ergonomics of the app and charts, and I didn't use the data I was getting to change my lifestyle" Gadson said. "In January 2020, I went back for my annual exam and I was 270 pounds, my A1C was 8.5% and I was still giving up."
Dexcom CGM reports for duty
Around that time, his son announced his wife was pregnant. The idea of being a grandfather motivated him to re-enlist in his fight with diabetes. Coincidentally, an acquaintance who works for Dexcom reached out and suggested he try Dexcom G6, become a Dexcom Warrior and meet some of the Dexcom team to give a motivational talk.
"For 16 years talking about my service and sharing my story, I've said I'm here today because my team saved my life," he said. "But now I get to say my life is better today because my Dexcom CGM."
Dexcom G6 became the coach he needed to turn the tide.
"I started working on my diet and exercise, that Dexcom G6 was giving me the exact data in real time, and I started to learn and understand my body and respond to exercise and food. By January 2021, I was 70 pounds lighter and my A1C went from 8.5% to 5.7%!*"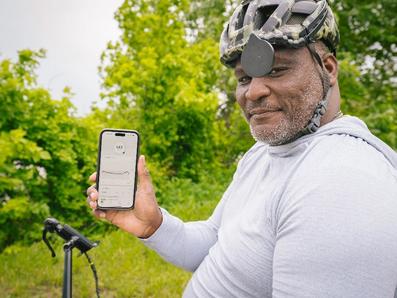 "Dexcom G6 was giving me the exact data in real time, and I started to learn and understand my body and respond to excercise and food"
Use overpatch as instructed
Today, he continues his battle with diabetes allied with Dexcom G7, which has helped him face his challenges in new ways.
"First of all, just learning what I needed to do in terms of my lifestyle – I call it the triad of our health: our sleep, our exercise and our food intake," Gadson said. "Dexcom CGM clearly became my feedback tool for where my body was, what my glucose levels were during sporting activity or exercise, how different kinds of foods impacted my glucose levels, and really, it became the cornerstone of that triad for me taking on and trying to manage my diabetes."
Armed with a better understanding of the impact of his lifestyle choices on his glucose levels, he attacks life with the vigor he's always had.
"Dexcom G7 gives me that consistent, real-time feedback that allows me to make better decisions in my life," he said. "I'm super excited now about it because it's one step. Now, I don't have to put a sensor on and then a transmitter. I just put it on. Secondly, its warmup time is one-fourth
†
what it used to be, and so it's providing information very quickly after I put it on."
And just like any soldier on active duty who needs all the right tools to complete the mission, Dexcom G7 has become an "invaluable tool" for the retired colonel.
"My A1C is now in a range where I want it to be," Gadson said. "It can be better, and I'm continuously working on it. My Dexcom G7 is my real-time teammate in this journey. I can honestly say without a doubt that my life is better with my Dexcom G7."
*Individual results may vary
†
G7 warms up in 30 minutes, G6 warms up in 120 minutes, "one-fourth" calculated by comparing G7 and G6 user guides.
BRIEF SAFETY STATEMENT: Failure to use the Dexcom Continuous Glucose Monitoring System and its components according to the instructions for use provided with your device and available at
https://www.dexcom.com/safety-information
and to properly consider all indications, contraindications, warnings, precautions, and cautions in those instructions for use may result in you missing a severe hypoglycemia (low blood glucose) or hyperglycemia (high blood glucose) occurrence and/or making a treatment decision that may result in injury. If your glucose alerts and readings from the Dexcom CGM do not match symptoms, use a blood glucose meter to make diabetes treatment decisions. Seek medical advice and attention when appropriate, including for any medical emergency.