What does the Transmitter Not Found alert mean?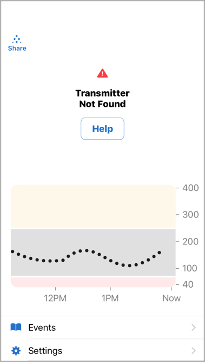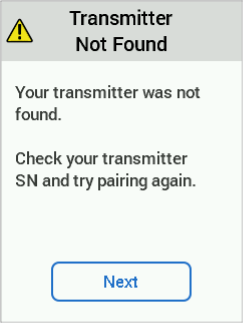 If your transmitter didn't pair with your display device and you are seeing a Transmitter Not Found alert, please try the below solutions:
Make sure the transmitter is snapped into a sensor and is flush with the sensor pod. You should hear a click when snapping your transmitter into the sensor, and the transmitter should be sitting flush in the sensor pod.

Make sure the transmitter SN in Settings matches the transmitter SN on the transmitter box.

Use your meter to make treatment decisions as you will not get Dexcom G6 readings, alarm or alerts until fixed.


App: For more information, tap Help.
Click here
to view our guide on pairing and troubleshooting your G6 transmitter. For more information on the Transmitter Not found Alert, reference the
Dexcom G6 User Guide
.
Related articles
Why isn't my transmitter working and/or why is my Dexcom Continuous Glucose Monitoring (CGM) System telling me to pair a new transmitter?
Dexcom G6 transmitters are under a limited warranty for the first 90 days from activation provided that activation was within 5 months of the shipping date. You can find your transmitter activated date in the settings screen in your display device.