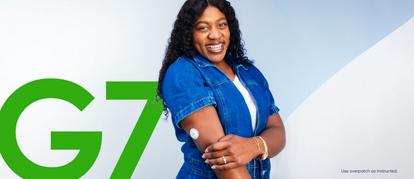 The new Dexcom G7. The most accurate CGM system.
1
Manage diabetes confidently with the powerfully simple Dexcom G7.
An easier way to manage diabetes without fingersticks
†
Dexcom G7, the simple CGM system, delivers real-time glucose numbers to your smartphone
*
or smart watch
‡
—no fingersticks required.
†
Effortlessly see your glucose levels and where they're headed, so you can make smarter decisions about food and activity in the moment to take better control of your diabetes.
†Fingersticks required for diabetes treatment decisions if symptoms or expectations do not match readings.

Smart device sold separately.*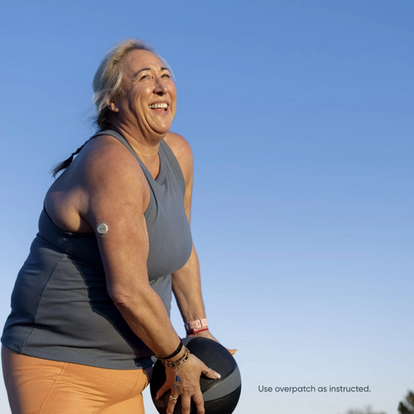 Made for all types of diabetes
Dexcom G7 can be used to manage type 1, type 2, and gestational diabetes.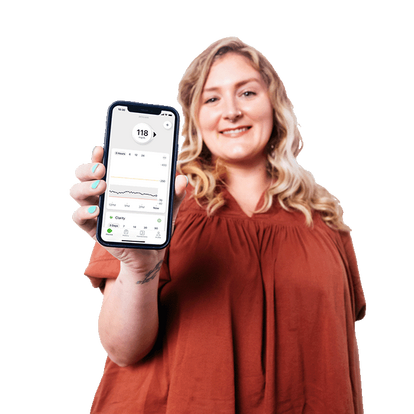 The most accurate CGM system
Make confident decisions with the most accurate CGM system
1
and see how that can lead to better results.
Smart device sold separately.*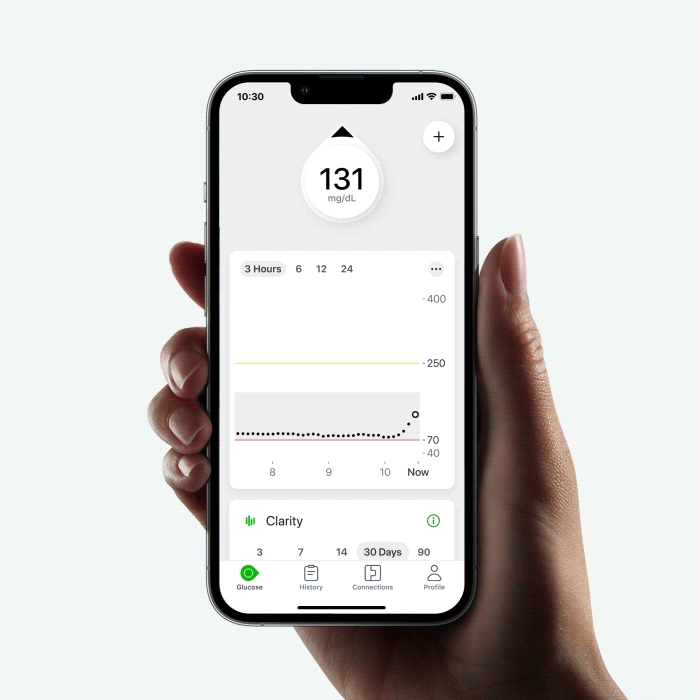 Proven results you can see
Dexcom G7 can help you spend more time in range, which is proven to lower A1C.
2-6
The more time you spend in range, the better and healthier you feel.
7
We even offer the Dexcom Clarity app, which tracks your glucose trends and provides a projected A1C in as little as two weeks.
§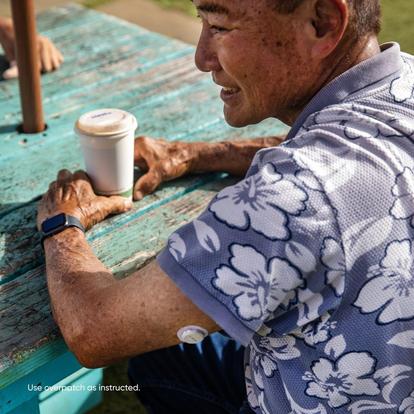 Our most comfortable and discreet sensor yet
††,7
The new, discreet sensor is 60% smaller than its predecessor. Its small size and upper-arm wear location make it easy to forget that you're even wearing it.
7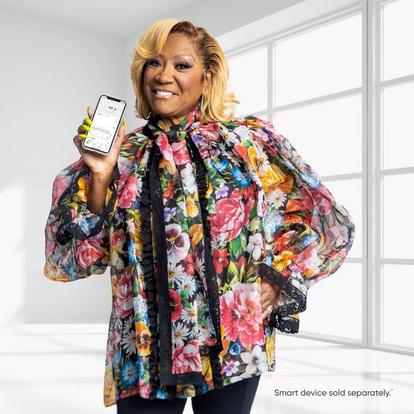 #1 Covered CGM brand
8
Dexcom is widely covered and affordable. Dexcom G7 is easy to get no matter your CGM coverage.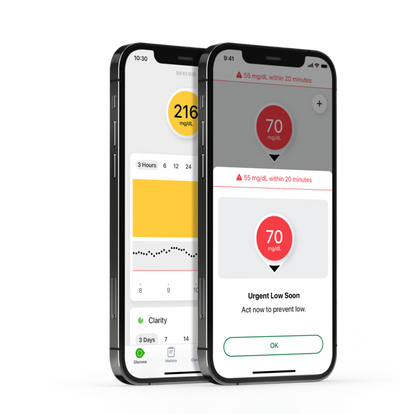 Alerts to keep you on track
Dexcom G7 can alert you up to 20 minutes before you go low (Urgent Low Soon alert), or when your glucose is too high. You can even personalize your alerts. Enjoy greater peace of mind, knowing that Dexcom G7 can let you know when it's time to take action.
Smart devices sold separately.*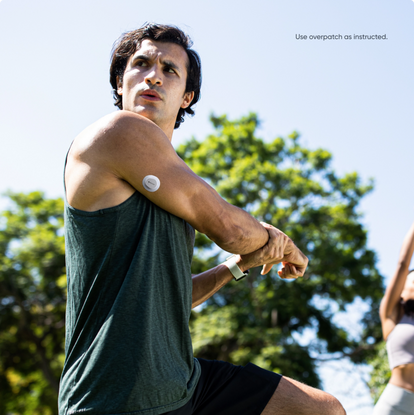 Lightning fast 30-minute warmup
Dexcom G7 warms up twice as fast as any other CGM system,
||
so you'll have more time with your numbers. It also has a new 12-hour grace period, so you can swap your sensor when convenient for you.
Closer to your circle of support
Dexcom G7 allows your support system to be there for you, even when apart. Here are the ways you can reduce worry and achieve greater peace of mind.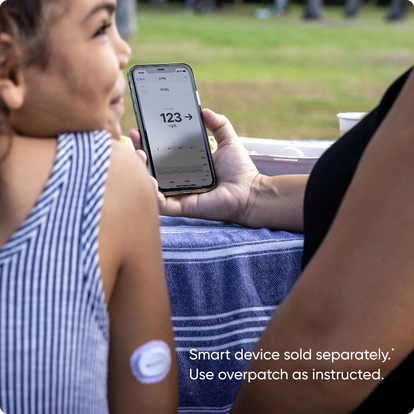 Dexcom Follow app
Share your glucose numbers with up to 10 Followers for an added layer of support.
¶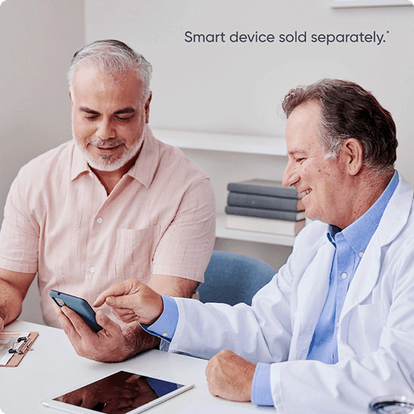 Dexcom Clarity app
Access your glucose reports and keep your provider in the loop with the Dexcom Clarity app.
§,#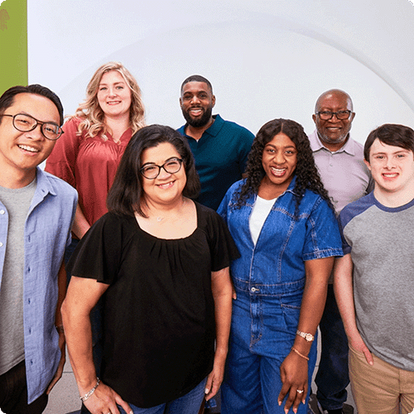 Dexcom Warrior program
Join a like-minded community of Warriors who support one another.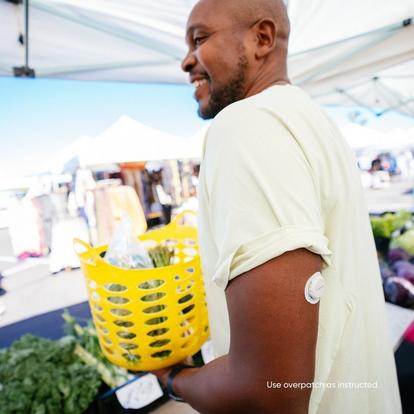 "When I was first diagnosed with diabetes, I was worried I'd have to stop doing the things I love. With Dexcom CGM I have more clarity and peace in my life."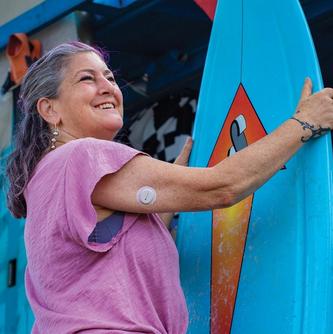 The most connected CGM brand
Dexcom G7 is part of the most connected CGM ecosystem.
1
It is more simple than ever to seamlessly manage your diabetes across various smart devices
*
and health apps.
Use overpatch as instructed.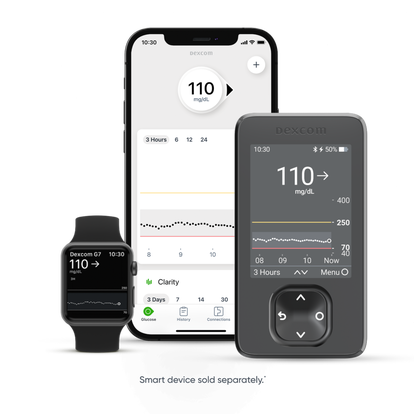 Choose your display device
The only CGM system that displays glucose numbers on your smartphone,
*
smart watch,
‡
or a dedicated receiver.

Get started with Dexcom G7
If you are a new Dexcom user, fill out the Get Started form to get a free benefits check.
If you are a current Dexcom G6 user not on a connected insulin pump, please speak to your doctor about getting a prescription for Dexcom G7. Check out the
FAQs
for further details.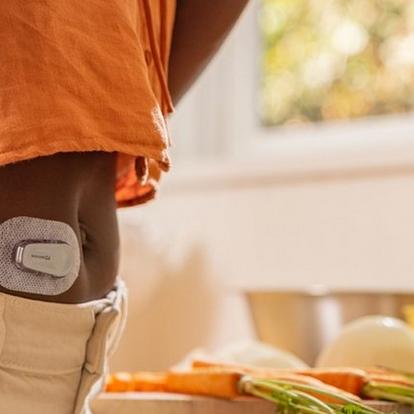 Are you on a connected pump?
We recommend new users on Automated insulin delivery (AID) systems to explore the benefits of Dexcom G6 and for existing users on AID to stay on Dexcom G6 until Dexcom G7 is compatible with your pump.
New Patients: Get Started with Dexcom CGM
Please fill out the form below to help us determine if the Dexcom CGM System is right for you or your loved one. A customer service representative of Dexcom, or a service provider on behalf of Dexcom, may follow up with you to process a full insurance benefits check or to discuss other Dexcom products, services or programs, after reviewing your information.
Personal & Diabetes Information
All fields marked with an asterisk (*) are required.
Have Questions?
Our customer support representatives are available to help answer your questions at
888-738-3646
.
FAQs
What is the Dexcom G7 CGM System?
How much does Dexcom G7 cost?
What are the main differences between Dexcom G7 and Dexcom G6?
†
Fingersticks required for diabetes treatment decisions if symptoms or expectations do not match readings.
*
To view a list of compatible devices, visit dexcom.com/compatibility.
‡
Smart device required to display readings on watch.
§
An internet connection is required to send data to Dexcom Clarity.
||
Dexcom G7 can complete warmup within 30 minutes, whereas other CGM brands require up to an hour or longer.
¶
Separate Follow app and internet connection required.
#
Patient must first sync their Dexcom CGM data with the Dexcom Clarity app and consent to share their data with their healthcare provider.
1 Dexcom, data on file, 2022. 2 Welsh JB, et al.
J Diabetes Sci Technol
. 2022:19322968221099879. 3 Gilbert TR, et al.
Diabetes Technol Ther
. 2021;23(S1):S35-S39. 4 Beck, RW, et al.
JAMA
. 2017;317(4):371-378. 5 Beck RW, et al.
Ann Intern Med
. 2017;167(6):365-374. 6 Martens T, et al.
JAMA
. 2021;325(22):2262-2272. 7 Dexcom, data on file, 2020. 8 Managed Markets Insights & Technology, LLC. MMIT Analytics, June 2022. 9 dQ&A US Q1 2021 Diabetes Connections Patient Panel Report. 2021;69-72. 10 Seagrove HCP Survey Q1 2021. 11 Dexcom G7 CGM System User Guide.
BRIEF SAFETY STATEMENT: Failure to use the Dexcom Continuous Glucose Monitoring System and its components according to the instructions for use provided with your device and available at
https://www.dexcom.com/safety-information
and to properly consider all indications, contraindications, warnings, precautions, and cautions in those instructions for use may result in you missing a severe hypoglycemia (low blood glucose) or hyperglycemia (high blood glucose) occurrence and/or making a treatment decision that may result in injury. If your glucose alerts and readings from the Dexcom CGM do not match symptoms, use a blood glucose meter to make diabetes treatment decisions. Seek medical advice and attention when appropriate, including for any medical emergency