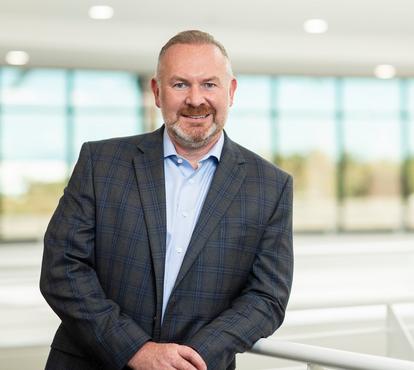 Executive Vice President - Global Operations
Barry Regan
Barry Regan is Executive Vice President of Global Operations at Dexcom.
Barry joined Dexcom in 2020, and he is responsible for Dexcom's global Operations teams including Corporate Operations Engineering, Manufacturing, Supply Chain, Procurement, Facilities , Environmental Health Safety and Sustainability, and Operations Program Management. Barry also oversees manufacturing process development and automation and supply chain scale-up of Dexcom's innovative Continuous Glucose Monitoring products.
With close to 30 years of experience in Operations, Barry has led organizations in the global medical device and pharmaceutical industries through scaling and transformational change efforts to support growth and drive strategy.
Prior to Dexcom, Barry served as Senior Vice President of Global Operations at Wright Medical, leading global Manufacturing, Supply Chain, Engineering, Procurement, Facilities, EHS, and Distribution and Logistics. Before that, Barry was the Senior Vice President Global Supply Chain at Smith & Nephew. He has also served at AbbVie, as Vice President & General Manager, Americas Manufacturing, and has held various positions at Abbott Laboratories, a health care product company, with increasing responsibilities over a 17 year period. Barry also served on the board of directors of the Pharmaceutical Industry Association of Puerto Rico for four years.
He holds a Bachelor of Technology degree from the University of Limerick, Ireland, and a MBA from Lake Forest Graduate School of Management.